Participation of NT-MDT Spectrum Instruments in spring conferences in Europe
06.05.2019
NT-MDT Spectrum Instruments participated at 2nd Photonic and OptoElectronic Materials (POEM) Conference which was held in University College London from the 9th to 12th of April 2019.
At this conference Dr. Vyacheslav Polyakov made a report "Atomic force and scattering scanning near-field optical microscopy of nanomaterials in visible, mid-IR and THz spectral ranges and its application". This report examined the use of ScanT™ technology for scattering SNOM in NTEGRA Spectra II and NTEGRA Nano IR systems.
During the month of May NT-MDT Spectrum Instruments will participate in two conferences. At the ISPM conference a new concept ScanT™ of AM-AFM measurements automation will be presented. The corresponding report "The Pathway to Complete AM-AFM Automation" will be delivered by Dr. Vyacheslav Polyakov at the Session X: Novel SPM techniques on Wednesday, May 29 at 14:50. The application of ScanT™ technology in NTEGRA, NEXT, VEGA systems will be considered.
At the Spring E-MRS conference come and visit our Booth #55 to speak to one of our experts and find out how you can improve the performance of your AFM by means of intellectual ScanT™ software.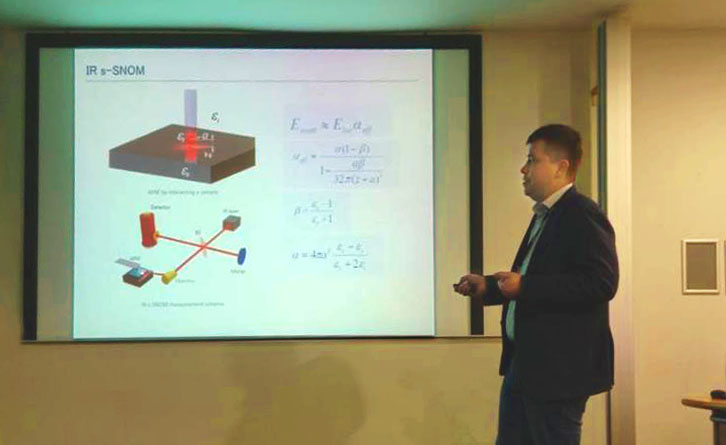 Report of Dr. Vyacheslav Polyakov at the 2nd Photonic and OptoElectronic Materials (POEM) Conference