NT-MDT Spectrum Instruments Exhibits at E-MRS Spring Meeting 2017
28.06.2017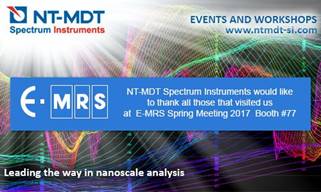 NT-MDT Spectrum Instruments were proud to participate at E-MRS Spring Meeting 2017 France, Strasbourg, May 22nd – 26th 2017. From cutting edge scientific research to routine surface investigations, NT-MDT Spectrum Instruments has a unique and unrivalled portfolio of Scanning Probe Microscopes. Our application-focused instruments provide you with a full range of capabilities in AFM-Raman, high-resolution, multi-frequency measurements, and AFM based nanomechanics.
The E-MRS Spring Meeting and Exhibit 2017 took place in the extended and modernized Convention Centre of Strasbourg (France). The conference consisted of 26 parallel symposia with invited speakers, oral and poster presentations and a plenary session to provide and international forum for discussing recent advances in the field of material science.
NT-MDT Spectrum Instruments presented our TITANIUM device at Booth # 77 where our experts such as Chérif Salhi Sales Manager Responsible for the French Market email:salhi@ntmdt-si.eu along with Dr Sergey Lemeshko email:lemeshko@ntmdt-si.eu was happy to meet visitors and run live demonstrations delivering results in real time.
For further information on upcoming events and workshops for NT-MDT Spectrum Instruments please visit http://www.ntmdt-si.com/
NT-MDT Spectrum Instruments would like to thank all those that visited us at E-MRS Spring Meeting 2017 and look forward to meeting you at future events.