Participation of NT-MDT Spectrum Instruments in the XXII. Annual Linz Winter Workshop
05.02.2020
NT-MDT Spectrum Instruments took part in XXII. Linz Winter Workshop, which was held from January 31 to February 3, 2020, in Linz, Austria.

The Linz Winter Workshop was focused on biological single-molecule research and nanoscience, and included force and optical microscopy/spectroscopy techniques. This year, special sessions on nano-medicine and high-speed atomic force microscopy was organized. It was the aim to provide a common platform for industry and academia.
At this conference Dr. Vyacheslav Polyakov (Development Director of NT-MDT Spectrum Instruments) made a report "Automation of topography and phase contrast measurements in tapping mode". This report examined the use of ScanT™ technology for NTEGRA, SPECTRA II, NEXT, VEGA systems.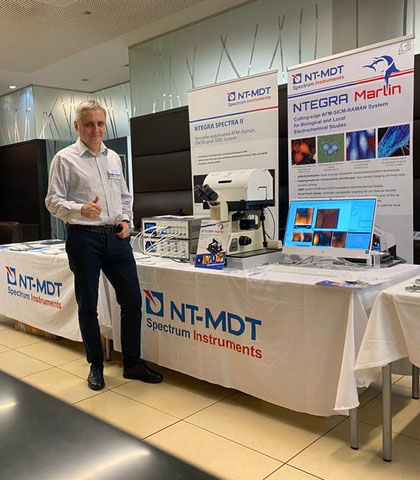 New joint product of NT-MDT SI and ICAPPIC - NTEGRA Marlin, the first AFM-RAMAN-SICM product was shown at the booth of NT-MDT Spectrum Instruments. Live out-of-lab measurements of lining cells by means of SICM technique gained a great interest among the workshop participants.
We are glad to congratulate our customers Dr. Victoria Sergunova and Prof. Elena Kozlova from Institute of General Reanimatology on the Silver Poster Award of the Workshop. High quality results and big scientific impact in Blood Cell studies.