NT-MDT Hosted Workshop on Techniques of AFM, Raman, SNOM & TERS
23.03.2015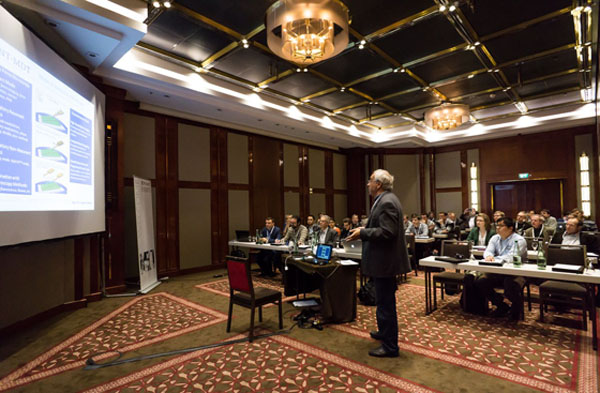 Frankfurt workshop 23-25 February 2015. The report is made by Dr. Sergei Magonov.
NT-MDT were delighted to host a workshop for our customers in Frankfurt on Tuesday and Wednesday 24th to 25th of February. The special guest was Dr. Victor Bykov, Founder and President of NT-MDT who opened the workshop for the attendees with a speech on Innovations in Scanning Probe Microscopy: From STM to Complex Analytical Systems and NT-MDT Developments.
Although the workshop was held in Germany at least 8 different countries were represented from the US to Czech Repuplic, Italy, Switzerland and The Netherlands. Over 25 people attended along with key executives from NT-MDT Headquarters in Zelenograd including Vladimir Kotov VP of Production, Andrey V. Bykov VP Information Resources, Service & Development, Andrey Shubin VP Director Marketing, Vyacheslav Polyakov Director R&D and Denis Stoiakine CEO of NT-MDT Sales & Logistics based in Limerick, Ireland.
The speakers gave highly interesting and involving talks and these were given by Dr. Pavel Dorozhkin NT-MDT Zelenograd, who covered AFM/Raman SNOM Microscopy and Tip Enhanced Raman Scattering (TERS) and Dr. Sergei Magonov NT-MDT America, who talked about High Resolution Visualization and mapping of mechanical properties down to the nanometer scale.
NT-MDT were also excited to have two guest speakers from high profile universities in Germany with excellent credentials in their field of expertise; Prof Lukas Eng from Technical University Dresden University and Prof. Ruediger Berger from Max Planck Institute for Polymer Research as well as renowned Prof Andrei Kholkin from University of Aveiro, Portugal.
On both afternoons at the workshop the attendees were able to go to the room next door and see the microscopes in action. The applications engineering team had spent hours to set up the NTEGRA Spectra, Titanium and modular NTEGRA devices and were on hand to show scans taking place and results being shared in real time. This was a high point for the attendees and on the first day it was difficult for people to leave the devices.
Dr. Victor Bykov commented, "these workshops are a core activity for our business, they give us the opportunity to meet and communicate with our existing and potential customers in a relaxed environment, whilst at the same time showcasing our devices live. The fact that Professors of such distinction, are willing to come and share their knowledge and research with attendees is priceless. The feedback is overwhelmingly positive and we will continue to run such events throughout 2015."
For information on future events please visit www.ntmdt.com or follow us on Twitter @NTMDT
About NT-MDT
Founded in 1990, NT-MDT has become known internationally for its next-generation instruments in AFM, STM, and hybrid technologies such as AFM-Raman, TERS, SNOM, Bio and deep vacuum. NT-MDT is also known as a trendsetter in Atomic Force Microscopy with a state of the art design and a large range of devices with unique first time capabilities. Its microscopes have won many awards including four times the prestigious R&D 100 award. Our mission is to enable researchers, engineers and developers to conduct nanoscale research by creating better solutions for nanotechnology instrumentation. Along the way, we maintain a global perspective, always taking into consideration the needs of student in the classroom, the researcher at the cutting edge in the laboratory, and the practicalities of industrial R&D.
NT-MDT Hosts Workshop on Techniques of AFM, Raman, SNOM & TERS. Frankfurt, 24-25 February 2015
Contact:
Alanna Carty
Marketing Manager US & EMEA NT-MDT
carty@ntmdt.ie
+353 61 33 33 22