Invitation to a Free NT-MDT Workshop, Germany February 25th 2016
02.02.2016
Your Exclusive Invitation to a Free NT-MDT Workshop
at The Hotel Crowne Plaza Berlin, Germany February 25th 2016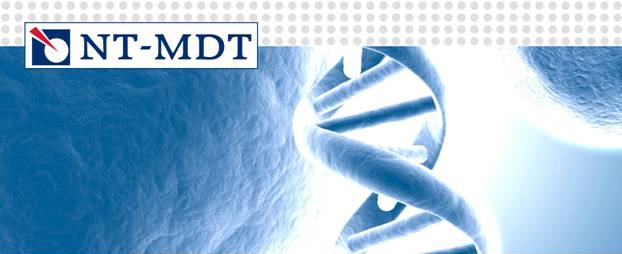 Invitation
NT-MDT is excited to extend an exclusive invitation for you to participate in our German workshop in Berlin on Thursday 25th February in the Crowne Plaza Berlin City Centre Hotel on the techniques of AFM, Raman, SNOM and TERS.

In addition to the talks we will be able to provide and demonstrate measurements on the modular NTEGRA and TITANIUM devices.

We would also like to take the opportunity to invite you to join us for a dinner at 7.30pm.
This workshop is Free of Charge for all attendees
Workshop Agenda
Advanced Electrical measurements using new AFM controller with integrated 5 lock-in amplifiers;
Nonresonance technique (mechanical properties and topography) using the unique Hybrid Mode;
Unique integrated AFM/Confocal/Raman/SNOM system/ TERS (Tip Enhanced Raman Scattering, nano Raman) applications;
Introduction of the New development - nano IR system;
System for automated AFM measurements with unique Revolution Multiprobe Cartridge System (TITANIUM);
New generation of the Novel AFM controller.
Dr. Sergei Magonov

CEO of NT-MDT America. Dr. Magonov is involved in scanning probe microscopy activities since 1988 as the Head of STM/AFM laboratory (FMF, Freiburg University) and principal scientist in Digital Instruments, Veeco Instruments and Agilent Instruments. Recent developments and applications include single-pass electric modes, Hybrid mode, etc."

Prof. Svetlana Santer

Prof. Dr. Svetlana Santer commenced her studies in Physics at the University of St. Petersburg, Russia and graduated with a "Master of Science" degree in biophysics. She received her PhD degree (2000) from the University of Ulm, Germany, and defended the habilitation thesis (2007) at the Department of Microsystems Engineering (IMTEK) of the University of Freiburg (Germany). Since 2009 she is a Professor of experimental physics at the Institute of Physics and Astronomy, University of Potsdam (Germany). Her research interests include developing novel concepts to employ functionalised polymer surfaces to move and/or arrange and assemble adsorbed nano-size objects.

Prof. Sylvia Speller

Professor of Physics at the University of Rostock since 2012. Speller obtained her PhD from the University of Osnabruck in 1995 with a dissertation on Scanning Tunneling Microscopy of atomic structures on metals. She spent postdoctoral stays at places such as Eindhoven and Leuven and worked as an Assistant Professor at the University of Osnabrück, in 2002 she completed her Habilitation in Physics. In 2001 Speller was appointed full professor for Experimental Physics at the Radboud University Nijmegen where she coordinated research programmes on Advanced Scanning Probe Microscopy and acted as director of NanoLab Nijmegen, a programme dedicated to knowledge transfer between academia and industry in the field of nanoscience and technology.

Dr. Vyacheslav Polyakov

Head of R&D at NT-MDT. Vyacheslav Polyakov's responsibilities include development of new AFM products and applications and integration of AFM with various optical techniques including infrared spectroscopy. Vyacheslav has over 12 years experience in the field.

Artem Shelaev

Application scientist at NT-MDT responsible for developing integrated techniques of Atomic Force Microscopy and various optical methods such as Raman/SNOM/TERS/STED/FLIM. Artem has over 10 years experience at nanoscale optics and spectroscopic techniques.
Workshop program:
Thursday, 25th February
9:00 Registration
9:15 Workshop Opening; Ms Sinéad Quinn
9.20 Opening Talk - "Novel in Scanning Probe Microscopy / High Resolution Spectroscopy and NT-MDT Development", Dr. Vyacheslav Polyakov
10.00-11:00 Guest speaker: "Heavy duties with soft matter: Response of smart surfaces with defined stimuli for applications in nanotechnology", Prof. Svetlana Santer
11:00-11:15 Tea/Coffee
11.15-12:15 "Compositional Imaging of Heterogeneous Materials with Atomic Force Microscopy and Related Techniques", Dr. Sergei Magonov
12.15-13.15 Guest speaker: "Correlative Microscopy of Excitations in Molecule Crystal Landscapes",
Prof. Sylvia Speller
13.15 Lunch
14.15 " Co-localized AFM/Confocal Raman microscopy, Tip enhanced Raman spectroscopy, aperture SNOM, Infrared sSNOM ", Artem Shelaev
15.15 - 17:30 Live Presentation of the systems NTEGRA Prima, TITANIUM.
A conference dinner will be held on the evening of Thursday the 25th of February for all attendees.