NT-MDT President Victor Bykov Accepts The Nanotechnology International Prize RUSNANOPRIZE October 2014
23.10.2014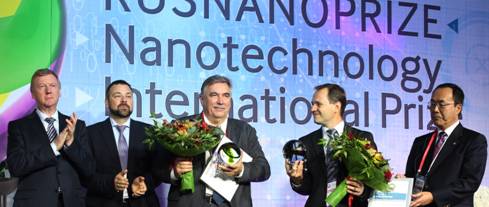 Pictured left to right: Director General Rusnano, Anatoly Chubais,
VP Okritie Bank Main Sponsors Ilya Abrosimov, NT-MDT President Victor Bykov,
NT-MDT Head of Applications & Product Development Dr. Pavel Dorozhkin,
Managing Executive Officer GM of The Technology Research Institute,
Shimadzu Corporation Japan, Yoshikazu Yoshida
The Nanotechnology International Prize RUSNANOPRIZE 2014 is awarded to NT-MDT President Victor Bykov, Professor Renato Zenobi of the Swiss Federal Institute of Technology ETH Zurich and Dr. Pavel Dorozhkin Head of Applications & Product Development NT-MDT Zelenograd, Moscow.The RUSNANOPRIZE is awarded to scientists and researchers who have achieved scientific or technological discoveries in the field of nanotechnology and to the commercial enterprise which has been the first to apply this discovery in mass production with an annual turnover of at least $10m USD and to reach business success with the application of such a discovery.
"The International Prize in Nanotechnology is an acknowledgement of the services of scientists and developers who have laid the theoretical foundations for new technology, and the companies whose products help determine the image of our modern world. It is very important to remember that any new technology is not simply a matter of one or two days, but a process that requires many years, and the efforts of dozens, even hundreds of talented, hardworking people—scientists, engineers, and businesspeople."
Zhores I. Alferov, Winner of the Nobel Prize for Physics

The Chairman of the Executive Board of RUSNANO Management Company LLC, Anatoly Chubais, and Yoshikazu Yoshida, Managing Executive Officer of Shimadzu Corporation awarded the 2014 annual RUSNANOPRIZE. The award was given for achievements in the field of Optics and Nanoelectronics to Professor Renato Zenobi of the Federal Institute of Technology in Zurich (ETH Zurich, Switzerland), the CEO of the company NT-MDT, Dr. Viktor Bykov (Russia), and the Head of Product and Applications Development at NT-MDT, Dr. Pavel Dorozhkin (Russia) for the development and marketing of equipment, probes and methods for optical, physical and chemical characterization on the nanometer scale.
The extensive range of affordable scientific equipment developed by NT-MDT enables the universal combination of different research techniques: scanning probe microscopy (SPM), scanning near-field optical microscopy (SNOM), Raman and fluorescence microscopy and spectroscopy. Using this combination Professor Zenobi developed a new technology, Tip-Enhanced Raman Scattering (TERS), which enabled the construction of Raman (chemical composition) maps with spatial resolution of 15 nm for a wide range of nanoscale objects.
NT-MDT and a team of scientists led by President Viktor Bykov were the first to develop and commercialize equipment integrating scanning probe microscopy and various optical techniques: NTEGRA Spectra product line.
"Constant improvement is a key factor to success in the AFM market. In 1998 it became clear to me that combined Scanning Probe Microscopy with Spectroscopy was needed for a better understanding of what a surface area might comprise. Being awarded with The Rusnano 2014 prize alongside Prof Renato Zenobi of ETH confirms to me that in conjunction with ETH NT-MDT has been successful in achieving that goal "
NT-MDT President Victor Bykov
"In 2000 looking at the development of TERS there was not a single instrument available on the market to do the job. Instead we were working with multiple manufacturers to combine elements. It was then I discovered that NT-MDT had combined AFM and Raman and we met and came up with a collaboration that continues to this day. I am delighted to be recognized alongside NT-MDT with this award"
Professor Renato Zenobi ETH, Zurich Switzerland
http://www.zenobi.ethz.ch/
RUSNANOPRIZE_Press_Release_Issue_24th_Oct_2014
For more information on the NTEGRA Spectra please go to: www.ntmdt.com/afm-raman/ntegra-spectra
For more information on the RUSNANO Prize please go to: http://www.rusnanoprize.ru/en/about/